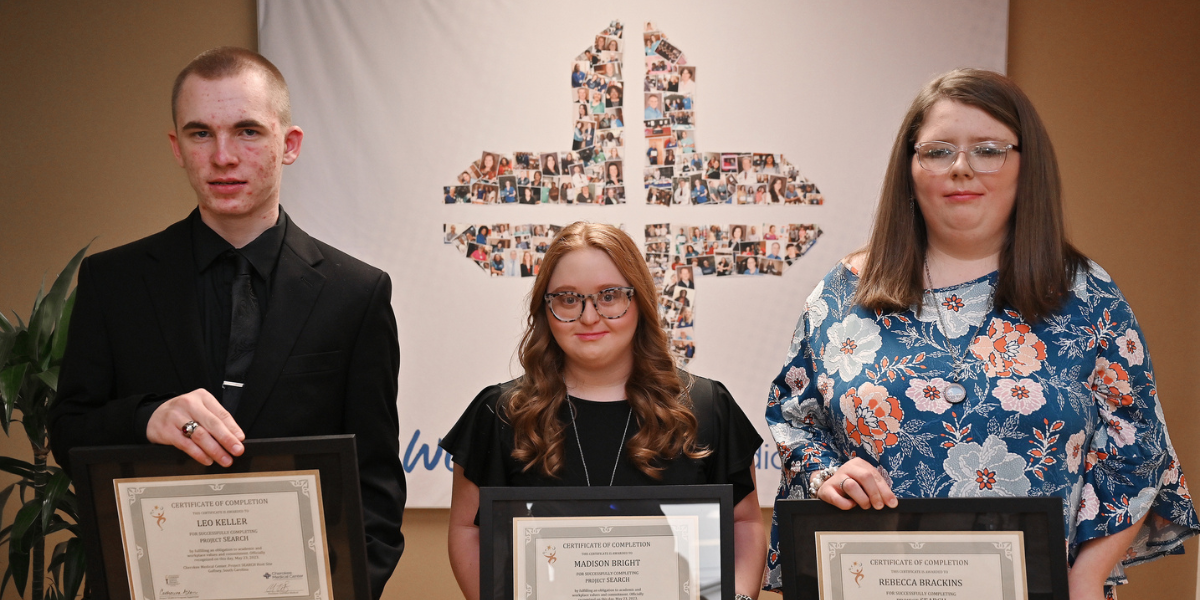 Cherokee Medical Center Project SEARCH interns pave the future
When three young adults entered Cherokee Medical Center for the first time in August 2022, they weren't sure what to expect from Project SEARCH. Now, all three are leaving the program with a job. 
Over the course of an academic school year, these young adults gained valuable life skills through classroom instruction and departmental internships at Cherokee Medical Center. 
Tammie Bright, the mother of an intern, saw tremendous growth in her daughter throughout the program. 
"I don't think she would be where she is today without Project SEARCH. It's a very beneficial program, not just for Madison but for all students in Cherokee County. It can improve the quality of life for individuals with disabilities," Bright said. 
While Project SEARCH has continued a partnership with Spartanburg Medical Center since 2015, this was the first year Cherokee Medical Center implemented the program through a partnership with Cherokee County School District and the SC Vocational Rehabilitation Department in Gaffney. 
"We have worked so long to get this program here, and it's unbelievable how much of a success this first year has been, not only for the students but for the adults involved as well," said Bessie Westmoreland, Cherokee County School District's executive director of student services. 
Cody Butts, president of Cherokee Medical Center, is excited about the future of Project SEARCH and what it can mean for future career opportunities. 
"One of the things we're trying to do is invest in the community and grow our employees from Cherokee County. We want to assist in any way we can to encourage students to pursue healthcare professions here and beyond," Butts said. 
As these students begin their careers, five new interns will start their Project SEARCH journey this fall. 
"You have paved the way for future Project SEARCH interns to have the same experiences you all accomplished," said Catherine Allen, program supervisor to this year's interns. 
Congratulations to our 2023 Project SEARCH graduates! 
Rebecca Brackins, Cherokee County School District 

Madison Bright, Cherokee County Family YMCA 
Leo Keller, Jr., Wendy's in Gaffney