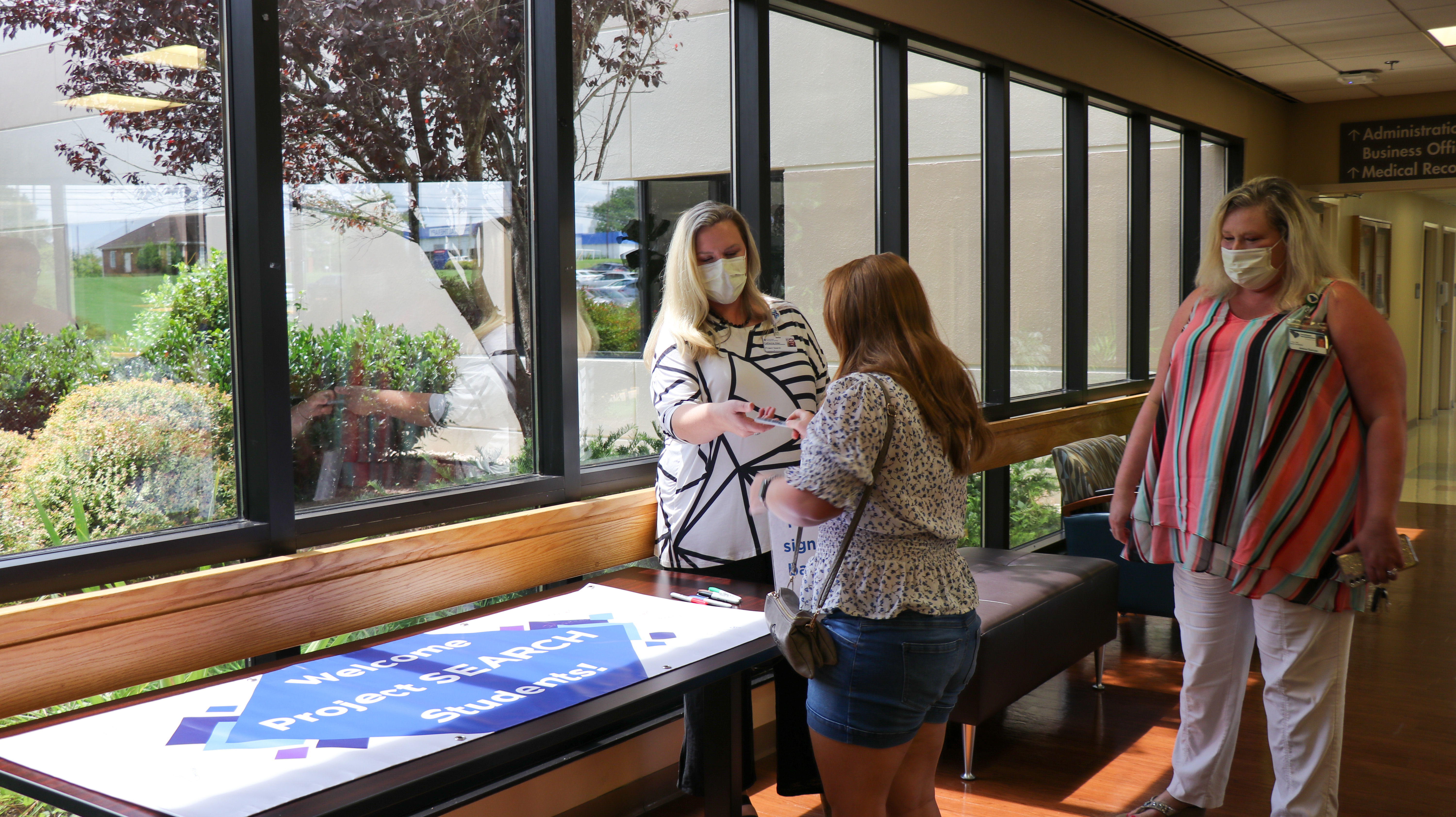 Cherokee Medical Center kicks off transition program Project SEARCH with 5 new interns
Some young adults with special needs often face a barrier between being in an academic environment in school and entering the workforce with a level of independence and confidence. 
A new partnership between Cherokee Medical Center, the Cherokee County School District and the S.C. Vocational Rehabilitation Department in Gaffney aims to bridge that gap. 
Project SEARCH will launch Aug. 15 with five students eager to learn and gain new work skills through on-the-job training in various areas of Cherokee Medical Center. 
Cherokee Medical Center President Cody Butts said this program was the "perfect fit" when it came to a long-desired partnership with the Cherokee County School District. 
"It allows us to work with students hands on to develop those employability skills for them, but then it also helps some of those entry-level positions that do have a higher turnover rate, and it's an opportunity to provide employment for them," Butts said. "A parent today was asking if they would be eligible for employment after the internships and the answer to that is absolutely yes."  
The internships are structured based on nine to 10-week rotations throughout the academic year so participants can get experience in a multitude of job skills in different hospital department settings.  
Working closely with staff in areas such as food services, linen services and environmental services, interns will have instructional time and work closely with staff to ensure their success with the goalgoal of being employed once their internships are complete. 
The students and their families participating in Project SEARCH this year were given a tour of Cherokee Medical Center to welcome them to the program on Aug. 5. Several hospital managers spent time greeting the interns and giving them an overview of what to expect. 
Madison Bright, 19, who previously attended Blacksburg High School, admitted she was a bit nervous about starting the new internship at Cherokee Medical Center on Aug. 15. But her excitement far exceeded any doubts she had, she said. 
She said her brother is a nurse at Spartanburg Medical Center and so she wants to follow in her brother's footsteps by working in a hospital. She's unsure of what area she'll enjoy working in the most but is eager to help cook meals with the hospital's food services department. 
Tammy Bright, Madison's mother, said Project SEARCH coming to Gaffney is something she began praying for several years ago. Some young adults with special needs find it hard to transition from high school into contributing members of society, she said. 
"We've worked so hard for inclusion all these years," Tammy Bright said. "We've worked on her independence and that's what we want to continue to do for her." 
Project SEARCH facilitators will provide regular feedback to parents on how their children are adjusting to the new roles. Interns will go through several days of orientation classes at the start of their internships. Then each day, after several hours of on-the-job experience, interns will review the day with their instructors to discuss what went well, what was challenging and discuss other questions and observations.  
Project SEARCH already exists at Spartanburg Medical Center through a similar partnership with Spartanburg School District 6. It became the first program established in South Carolina when it launched in 2014. A new academic year for Spartanburg Medical Center's Project SEARCH will also start on Aug. 15 with 10 new students. 
Project SEARCH was first developed at Cincinnati Children's Hospital to provide employment and education opportunities for 18- to 21-year-olds with developmental disabilities who meet vocational rehabilitation eligibility requirements. 
The program is designed for individuals who did not graduate high school with a diploma or certificate and therefore do not meet certain academic requirements but still have the adequate skillsets to be employed. 
"This is one of the best partnerships with the district and the hospital that we've ever had," said Bessie Westmoreland, Cherokee County School District's executive director of student services, who attended the Project SEARCH open house at Cherokee Medical Center. "It's an amazing opportunity to see what our students can do." 
Catherine Allen, the program manager and transition specialist with the Cherokee County School District, said classroom settings are great places to learn, but job skills are best taught in places where you can put what you're learning into practice. 
"This is how important you are to us. We are here for you however you need us," she said. "I know this will be difficult from what you're used to, but our No. 1 goal is that we get your babies to a place where they can be a competitive employee."