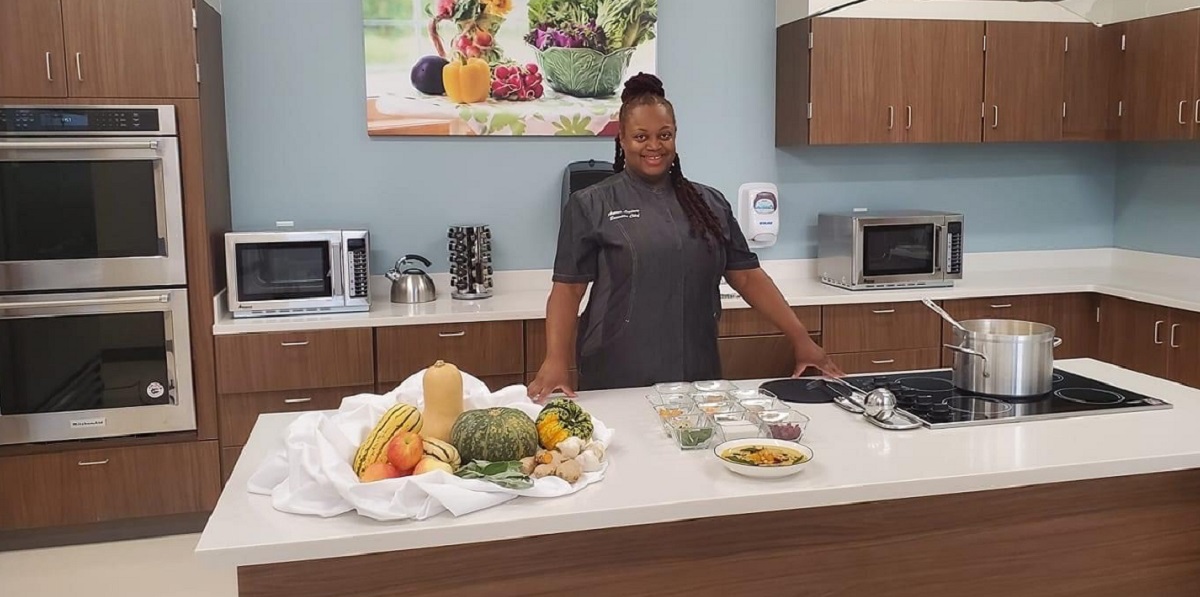 Chef recognized for vegan 'salmon' recipe
Executive Chef Artina Lindsey, with Morrison Healthcare and Spartanburg Regional Healthcare System, has gained national recognition for her vegan "salmon" with ginger rice and vegetables recipe. 
The dish won "Best Vegan" in Food Management's Best Healthcare Recipes of 2023. 
"Food Management recognizing my work is a true honor. I am humbled by the support of my team and the community," Lindsey said. "This reflects my passion of creating unique and tasty vegan/plant-based foods." 
Below is the recipe that received recognition:  
VEGAN SALMON WITH GINGER RICE & VEGETABLES 
Vegan Salmon Ingredients 
• 8 oz firm tofu  
• ⅓ cup cooked sweet potato  
• ½ tsp sea salt  
• 1 tsp raw sugar  
• 1 tbsp dark sweet soy sauce  
• 1 tbsp beet juice  
• 2 tsp cornstarch  
• 1 tbsp tamari  
• 2 sushi nori (sheets)  
• 2 tbsp grape seed oil 
Sauce: 
• 1 tbsp raw sugar  
• 1 tbsp tamari  
• 1 tbsp dark sweet soy sauce  
• 1 tbsp rice wine vinegar  
• 1 tbsp mirin  
• 1 tbsp Nori furikake (garnish for vegan salmon) 
Vegan Salmon Instructions 
Put tofu between a clean towel.  
Press all water out of tofu.  
Roast sweet potato in oven at 400 degrees with skin on until fork tender (depending on the size 20-35 minutes). Let cool slightly and remove skin. 
Using a stand mixer, add pressed tofu, cooked sweet potato without skin, sea salt, raw sugar, dark sweet soy sauce, beet juice, tamari and corn starch. Mixing sweet potato with pressed tofu works best when sweet potato is warm. 
Use paddle function, turn on medium and combine thoroughly.  
Cut nori sheets lengthwise into 3 equal strips. 
Place 1/4 of vegan salmon mixture on each sheet of nori.  
Smooth vegan salmon mixture evenly to coat the nori sheets (½" thick).  
Using butter knife, indent the vegan salmon vertically in the middle and then diagonally indent all the way up and down (this will resemble fish filet) To a frying pan, add oil.  
Heat frying pan over medium-high heat until oil is hot.  
Add vegan salmon with nori side down.  
Allow vegan salmon to cook until golden brown 3-5 minutes.  
Turn over vegan salmon, reduce heat to low and cook until golden brown about 3-5 minutes.  
Brush sauce on vegan salmon after it's removed from frying pan.  
Sauce: In a sauce pot, add raw sugar, tamari sauce, dark sweet soy sauce, rice wine vinegar and mirin.  
Stir and simmer over low heat until it becomes a thick syrup.  
Ginger Rice & Vegetables Ingredients 
2 cups uncooked brown jasmine rice  
1 oz ginger (julienne)  
2 ½ cups water  
2 tbsp tamari  
1 tbsp rice wine vinegar  
1 tbsp mirin ½ tsp sea salt  
2 tbsp grape seed oil  
2 bunches of baby bok choy  
2 scallions  
2 carrots  
2 red bell papers (small)  
1.5 cups shelled edamame (defrosted) 
Ginger Rice Instructions 
Rinse the rice and drain in colander.  
Peel ginger and cut into julienne pieces (like match sticks).  
In a small bowl, combine 1 tbsp tamari, rice wine vinegar, mirin and sea salt.  
Then add 1 cup of water and combine until incorporated.  
Add rice to pot with 1 ½ cups water and the seasoned liquid.  
Stir until incorporated, then add ginger without mixing into rice.  
Bring rice and water to a boil, turn down to low, cover with lid and cook for 25-35 minutes until water is completely gone.  
Turn off stove and set aside for 10 minutes with lid on.  
Vegetables: Cut baby bok choy vertically down the middle in half and in half again.  
Large dice fresh red bell peppers.  
Cut scallions into ¼ inch pieces. Peel and cut fresh carrots diagonally.  
Place baby bok choy, red bell peppers and carrots on baking sheet pan separately, drizzle grape seed oil and reminder of tamari on vegetables.  
Place baking sheet pan in oven pre-heated to 400 degrees for 5-7 minutes.  
Arrange on plate or bowl, serve and enjoy!