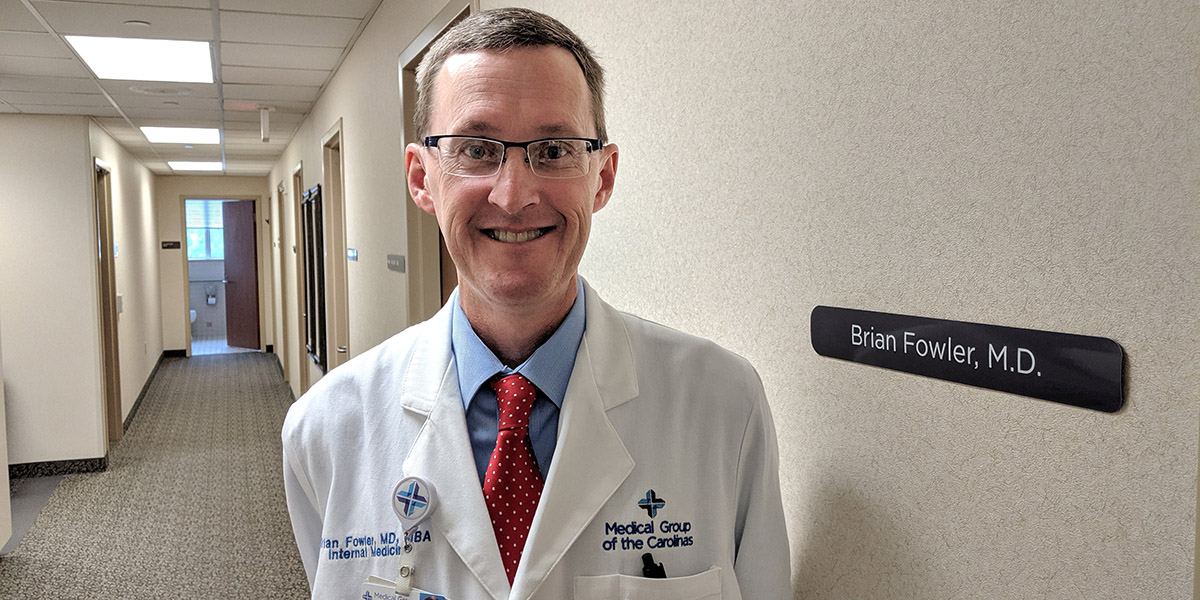 Change is healthy
Eleven and a half years is a long time to do anything.
That's how long Brian Fowler, MD, worked as a hospitalist at Spartanburg Medical Center. Recently, he made a big change – he's now an internal medicine doctor at Medical Group of the Carolinas – Medical Affiliates – North Grove.
Hospitalists are doctors who work exclusively in the hospital setting.
"As a hospitalist, patients are assigned to you," Dr. Fowler said. "In a practice, they choose you. And it's an honor for them to choose me."
What were a few other changes that Dr. Fowler had to acclimate to?
Medical chart documentation is a slightly different, but thanks to Epic the information all feeds into the same system.
"That resulted in a couple of hard days, but the staff were very helpful," Dr. Fowler said.
Staying up to date
Internal medicine comes with its own specific knowledge base, and Dr. Fowler spent some time studying up.
"There are a lot of new medications and treatments for diabetes, for example," Dr. Fowler said, "and new medications are released all the time."
Like all physicians, Dr. Fowler stays abreast of changes by regularly studying online databases, the New England Journal of Medicine, the Journal of the American Medical Association and other publications.
Keeping up to date in the medical world requires rigorous, continued study. Every physician is required to earn recertifications every 10 years.
A long history
Dr. Fowler has 20 years of history with Spartanburg Regional. Before his time as a hospitalist, he worked as an inpatient/outpatient doctor.
In his move to Medical Affiliates – North Grove, Dr. Fowler especially looked forward to the doctor/patient relationship that develops in a medical practice setting.
A few weeks in, Dr. Fowler is happy he made the move.
"The staff here have been so friendly," Dr. Fowler said. "They've made the transition easy."
To make an appointment with Dr. Fowler at at Medical Group of the Carolinas – Medical Affiliates – North Grove, call 864-585-5433.