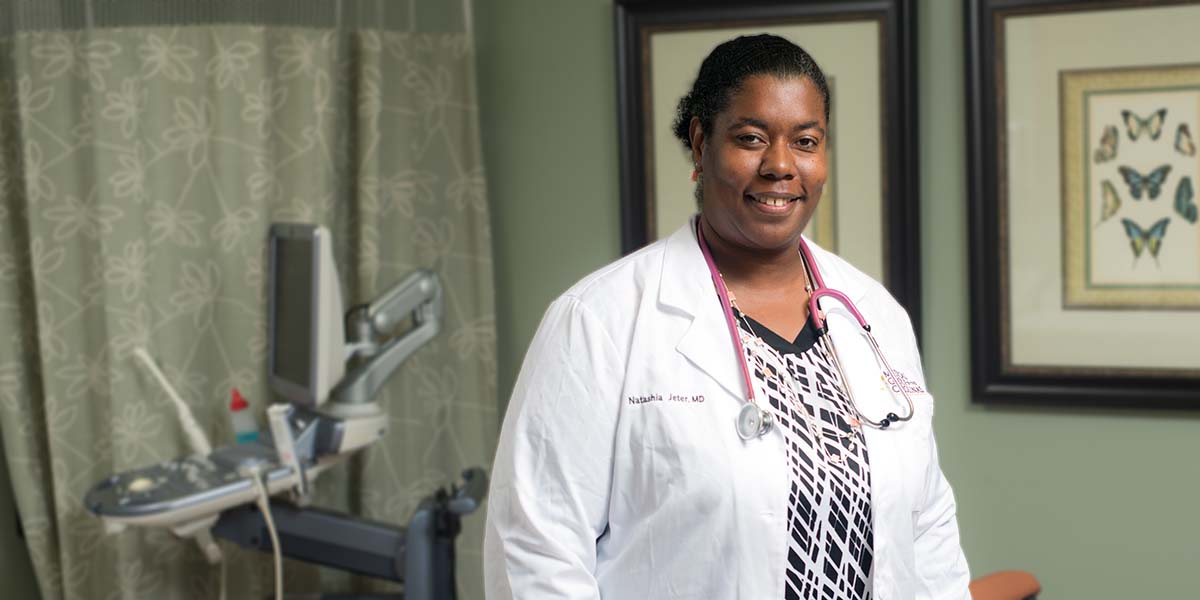 From challenges to triumphs
Editor's note: This is part of a series we're running through September in honor of Women In Medicine Month. 
From "humble beginnings" to trusted OB/GYN. Natashia Jeter, MD, has worked hard and come far in life.
The path to becoming a physician isn't easy for anyone, but women have a few extra obstacles to overcome. Dr. Jeter encourages women who want to be doctors to plan for those challenges and don't get distracted by them.
This September, Spartanburg Regional joins medical professionals across the United States to celebrate Women in Medicine Month.
Dr. Jeter shared her thoughts about the challenges for women in medicine.
What inspired you to get into the field of medicine?
I grew up watching many disparities in medicine and people go without care for various reasons. I wanted to alleviate some of those disparities and educate on the importance of preventive healthcare.
What challenges have you faced throughout your career?
Challenges have been many. Financial barriers were major in the beginning since I came from very humble beginnings.
I was also a first-generation college graduate and therefore I did not have much guidance along the track that I had chosen. I did have a great deal of moral support from family and friends.
Along the way, challenges of both racial inequalities and sexism have presented themselves.
What should women know before pursuing a career in medicine?
Women should be aware that there may be specific hurdles for them in medicine, but they are certainly surmountable. I think that if you are aware that these exist, you can develop a plan to succeed and not be blindsided. 
What challenges remain in medicine that are unique to women?
The career of medicine was traditionally dominated by males, especially in terms of physicians. Although that has evolved considerably, women often still have to prove their worth.
Women must also use character traits traditionally reserved for men in the way of leadership and assertiveness while maintaining a "softer" personality. Women are also tasked with juggling work with running a household if they choose to do both.
Who mentored you during your career journey? Who do you look up to?
My mentors included many professors, administrators and colleagues. My biggest cheerleader was my mother.
I can't give one specific person that I look up to, but I was driven and inspired by so many with a story that was similar to mine. Stories that involve overcoming odds that were stacked against them and succeeding anyway. Those that dared to dream about things that should have been impossible.
Why do you love being a part of the medical field?
I love medicine because I get to make a difference. I get to provide a service to a community that is so desperately in need. I get to educate and inspire simply because I'm present. Medicine allows me to give back in so many ways.
How are you working to support and engage future women physicians?
I support and engage by mentoring anyone who needs help. I discuss real issues with my teen patients and encourage them to push past their current circumstances.
I speak at youth and church functions. I visit local high schools. I currently work with students at a local medical school.
I continue to push myself and stay involved in my own organization so that women have a presence, thus leading by example.
Natashia Jeter, MD, serves as a physician at Union Medical Center Center for Obstetrics and Gynecology and Spartanburg Medical Center for Obstetrics and Gynecology.