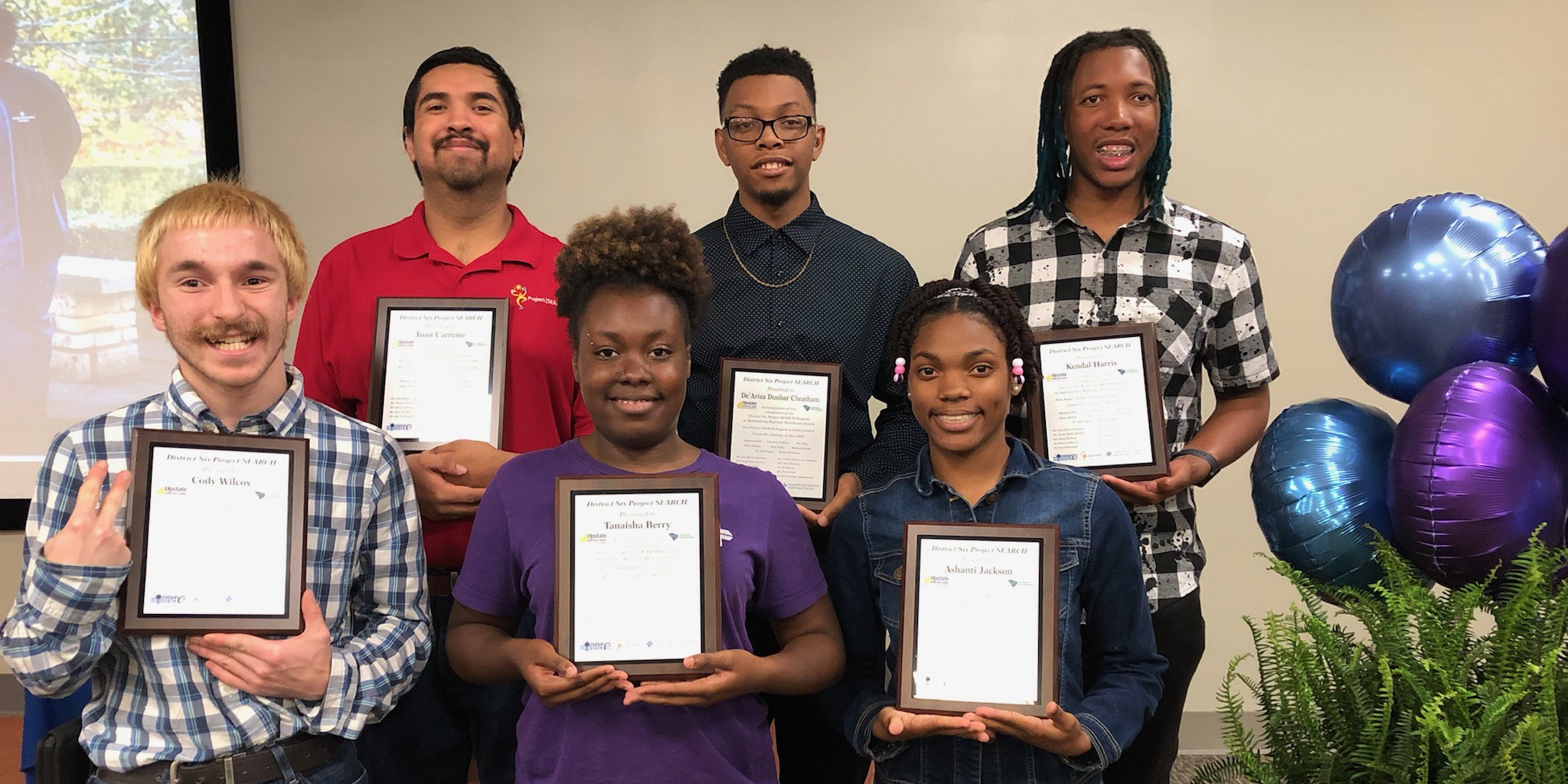 Building confidence and self-worth: Six interns graduate from Project SEARCH
In early 2020, the COVID-19 pandemic halted many programs and events, including Project SEARCH, a job training program hosted at Spartanburg Medical Center that prepares young adults with intellectual and developmental disabilities for employment.  
For the first time since spring 2019, Project SEARCH interns graduated from the program with close friends, family and community members in attendance.  
"We were blessed to have the opportunity to return to Spartanburg Medical Center this year," said Hannah Drew, Project SEARCH instructor. "The pandemic definitely shook everything up, but it also gave our interns the chance to step up and showcase their abilities. I am so proud of our interns and all their accomplishments this year." 
As six interns graduate from the Spartanburg Medical Center Project SEARCH program, further opportunities lay ahead to expand the program. In fall 2022, Project SEARCH will expand to Cherokee County.  
"Cherokee Medical Center has been working with the Cherokee County School District to be the primary host site for their Project SEARCH program," said Cody Butts, Cherokee Medical Center president. "We could not be more excited about this opportunity to be part of such a wonderful program and helping to develop these skills in our community." 
Through internships at Spartanburg Medical Center, and in Cherokee County in the future, students learn job skills for future employment.  
"Project SEARCH helps prepare interns for the workforce by providing a good balance of knowledge and interpersonal skills," said Hope Talley, student programs coordinator and Project SEARCH liaison. "These can not only be used in gainful employment with Spartanburg Regional Healthcare System, but with other employers in our community."  
But the students don't just learn a new set of skills through the program, they also build their self-worth.  
"One of the biggest areas of achievement this year was our interns' confidence and feelings of self-worth," Drew said. "Becoming an accepted, supported and valued member of teams within departments has done more for our interns than any classroom lesson could provide." 
Congratulations to the graduating interns! 
Tanaisha Berry, banquet server, The Marriott 
Juan Carreno, linen services assistant, Spartanburg Medical Center 
De'Arius Dunbar Cheatham, environmental services technician, Spartanburg Medical Center 
Kendal Harris, bio-med services cleaning and distribution tech, Spartanburg Medical Center 
Ashanti Jackson, still seeking employment 
Cody Wilcox, environmental services hygiene associate, Spartanburg Medical Center 
Thank you to the Spartanburg Medical Center departments that hosted interns: 
3-West 
Bio-Med Services 
Emergency Services  
Endocrinology 
Environmental Services 
Gibbs Lab 
Gift Shop and Volunteer Services 
Linen Services 
Medical Supply 
Pediatric Rehabilitation 
Radiology 
The following departments provided shadowing opportunities to interns: 
Spartanburg Medical Center 
3 West 
5 Tower 
8 Tower 
Bio-Med Services 
Emergency Center 
Endocrinology 
Endoscopy 
Environmental Services 
Food Services 
Gibbs Lab 
Gift Shop and Volunteer Services 
Language Services  
Linen Services 
Main Lab 
Medical Supply 
Pediatric Rehabilitation 
Perioperative 
Radiology 
Spartanburg Medical Center — Mary Black Campus 
Behavioral Health 
Medical Supply 
Pelham Medical Center 
Perioperative 
Nutrition 
Materials Management 
Emergency Center 
PCA (4th floor)