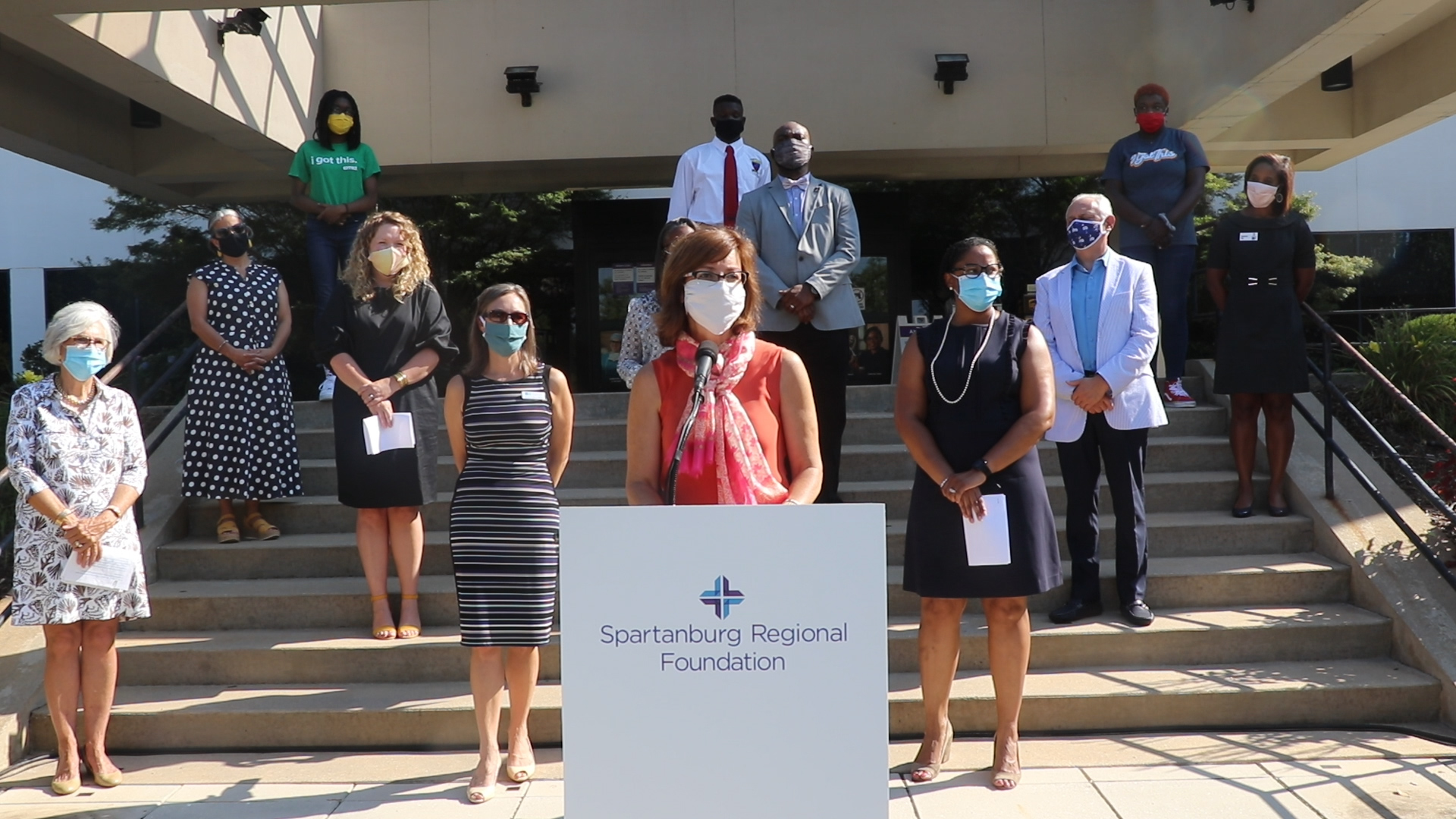 Kristy Caradori Speaking at news conference
Spartanburg community receives $4.4 million grant to combat teen pregnancy
The Spartanburg Regional Foundation has been awarded a three-year, $4.4 million federal grant to reduce teen pregnancy. The grant will support a coalition of organizations working together to address high teen pregnancy rates and prevent related negative health outcomes.  
"We're so excited to bring national funding to Spartanburg to support local needs," said Kristy Caradori, executive director of the Spartanburg Regional Foundation. "We are grateful to our program partners because this award would not have been possible without their commitment and expertise."
This new grant will expand and build on coordinated community efforts in Spartanburg that began more than 10 years ago. While this latest grant is led by the Spartanburg Regional Foundation, it represents a collaboration that includes program partners, such as the Spartanburg Joint Funders, the Spartanburg Community Indicators Project, and state and national teen pregnancy prevention experts. The Mary Black Foundation shepherded this work for the past five years prior to the new grant award and will remain an integral partner. 
"We are thrilled to see these resources continue to support efforts that improve the lives of young people, and we look forward to being part of this ongoing community-wide partnership," said Molly Talbot-Metz, president and CEO of the Mary Black Foundation.  
Tackling the challenge of teen pregnancy in Spartanburg County has been a collaborative effort for more than a decade. In 2007, the Spartanburg Community Indicators Project published data establishing the link between teen pregnancy and poverty, low educational attainment, and the poor health of newborns. The Spartanburg Joint Funders – the Spartanburg Regional Foundation, the Mary Black Foundation, the Spartanburg County Foundation and United Way of the Piedmont – followed up by investing in the South Carolina Campaign to Prevent Teen Pregnancy's work in Spartanburg County. 
Federal grants followed, leading to the creation of the Connect initiative. Managed by the Mary Black Foundation, Connect brought together key partners to address the needs of adolescents through evidence-based, holistic strategies.  
"It is essential to identify root causes, build resilience, improve systems, and adopt best practices to impact youth over the continuum of adolescence," said program director Polly Edwards-Padgett. "I believe Connect has done that." 
Since 2008, Spartanburg County has seen a 66 percent decrease in the rate of teens giving birth. Still, there is more work to be done. Overall, Spartanburg County continues to exceed the national rate of teen pregnancy. And there are areas of the county where the high incidence of teen pregnancy and sexually transmitted diseases are especially persistent.  
When the opportunity to apply for additional federal funding arose, the Spartanburg Regional Foundation agreed to step into the lead role.  
"Our trustees recognized how important it was to continue this work in our community, and they were eager for the Foundation to provide this support," Caradori said. "The mission of the Foundation includes bolstering community health and wellness initiatives. Teen health is critical to Spartanburg County's present and future, and we are excited about this opportunity to make a difference moving forward."