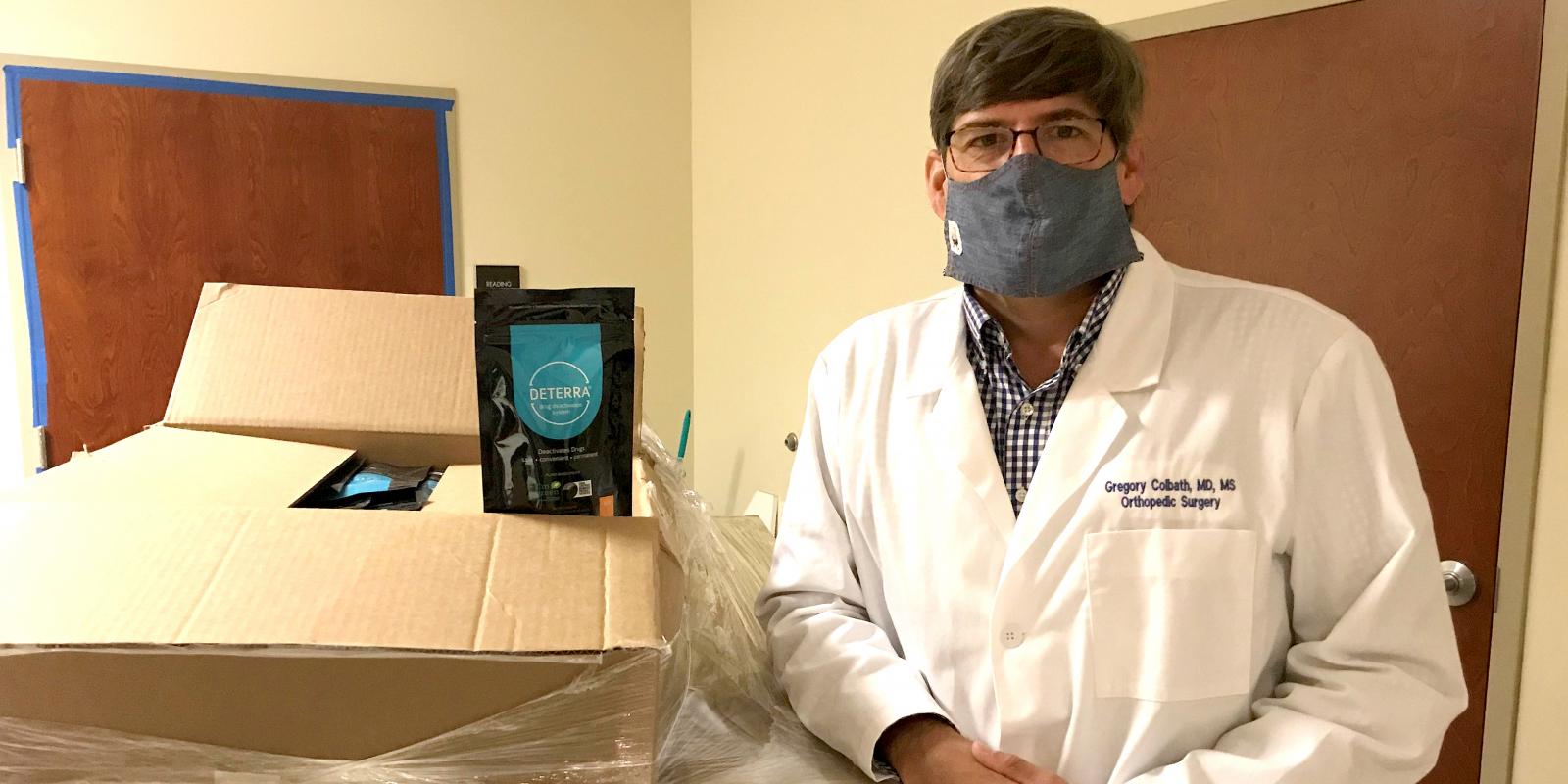 Foundation grant addresses problem of unused opioid pills
The U.S. is in the grip of an opioid epidemic.
Opioid overdoses killed nearly 47,000 Americans in 2018, according to the CDC. Many more suffer from addiction or substance use disorder – as many as 2.3 million Americans, the National Institutes of Health estimates.
Those suffering come from all walks of life. They live in large cities, in suburbs and in small towns.
One local physician has ideas for keeping opioids out of the hands of people who might abuse them. And thanks to a grant from the Spartanburg Regional Foundation, he's got one solution in the bag.
Spartanburg Regional orthopaedic surgeon Gregory Colbath, MD, provides his patients with a specially designed bag for the disposal of any unused painkillers. Dr. Colbath practices at Medical Group of the Carolinas – Orthopaedics – Skylyn. Created by a company called Deterra, the bags include a charcoal packet that, when mixed with warm water, breaks down and deactivates the medicine.
The patient can then seal the bag and throw it away without risking narcotics flowing into the local water supply or being found and used by others.
In 2020, the Spartanburg Regional Foundation awarded Spartanburg Regional Healthcare System a $20,000 grant to purchase 5,400 of the deactivation bags. Dr. Colbath is helping spearhead the effort and plans to provide these bags for his patients and to distribute them to other doctors who may be interested.
"I'm very grateful to the Foundation for this grant," Dr. Colbath said. "It's really going to help protect our patients and others in the community as we fight the problem of opioid addiction."
Dr. Colbath prescribes painkillers, including opioid pills, to patients undergoing hip or knee replacements. But as he has come to better understand their addictive potential, he urges patients to exercise caution.  
As part of pre-operation discussions with patients, Dr. Colbath talks about responsible opioid usage and the proper method for disposing of unused pills.
"At first, I thought it would be a difficult discussion to have with patients, but it has been easy," Dr. Colbath said. "People have become more and more aware of opioid addiction. So many families, including here in our community, have been affected."
The problem of unused pills
In 2018, doctors wrote more than 168 million prescriptions for opioid painkillers. It is considered a good thing when patients don't need to take all of the pills they've been prescribed.
But a problem remains: Unused pills can fall into the hands of the wrong people.
For example, teenagers might find the pills and want to experiment – or sell them to friends who abuse drugs. Or patients might save the pills and use them later without medical supervision.
Experts estimate that there are as many as three billion unused opioid pills sitting in medicine cabinets, toiletry bag and purses, or floating around the streets in the United States.
Adjusting his approach, curbing the crisis
In preparing patients for the post-surgery recovery process, Dr. Colbath has adjusted his methodology. He promotes the use of over-the-counter medicines, such as ibuprofen, and stresses the importance of movement and exercise. And he has reduced the number of narcotic pills he prescribes to patients.
If patients don't use all of the prescribed medication, Dr. Colbath urges them to use the Deterra deactivation and disposal bags.
Spartanburg Regional physicians, including Dr. Colbath, have given presentations to local groups and on webinars, hopes to spread awareness.
He understands that it's only one part of curbing the opioid crisis.
"It's a great way to start a conversation with patients and a reminder for them when they have leftover pills," Dr. Colbath said. "And, so far, nearly 100 percent of my patients have said they've used the bags or plan to. I'm really pleased with the response."
Learn more about Spartanburg Regional Foundation grants at https://regionalfoundation.com/grants/.