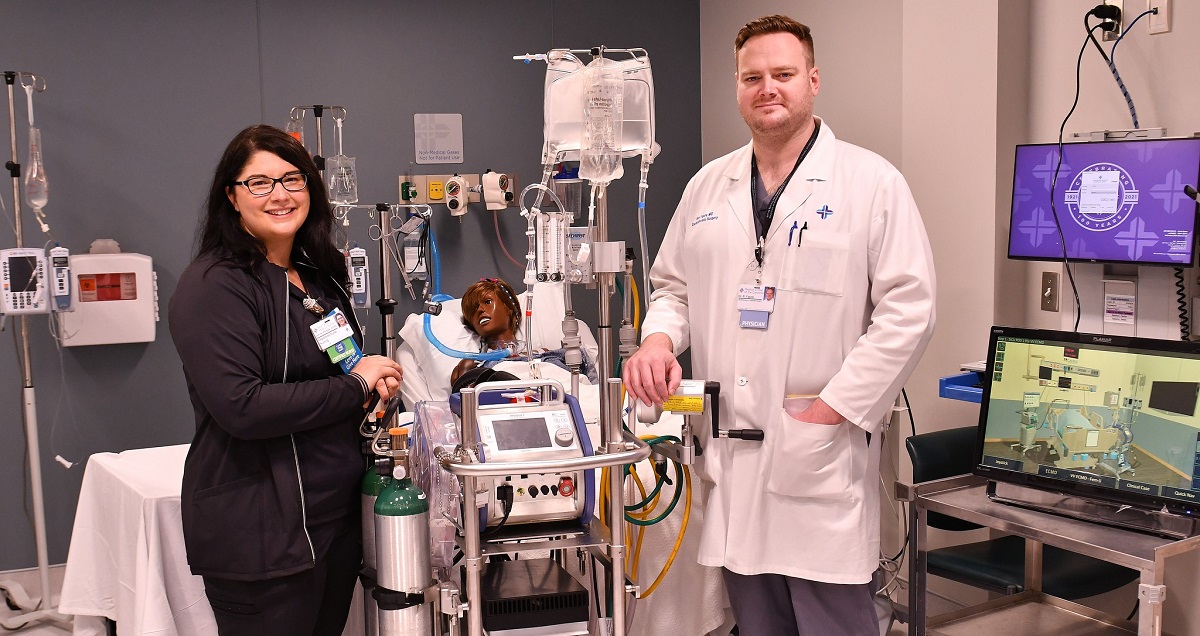 Breathing New Life
For patients at Spartanburg Medical Center who experience acute heart or lung failure, a game-changing device is now being used to breathe new life into their chances of survival.
ECMO, or Extracorporeal (meaning "outside the body") Membrane Oxygenation, is an advanced life support system that is used when conventional life-support systems, like a ventilator, aren't enough.
"It's essentially a technology that allows for there to be life when there's no pulse, when there's no lungs," said Ronald Figura, MD, a cardiothoracic surgeon over ECMO services at SMC. "It's science fiction, but reality. It's taking someone who would have been declared deceased not even 10 or 15 years ago and now giving them some potential."
The ECMO device takes a patient's blood outside the body, oxygenates it, removes carbon dioxide, and then returns the blood to the body, ready to use. In contrast, a ventilator delivers and exchanges air through the lungs when lung function is too limited to support the necessary gas exchange going from the lungs into the blood stream. When that fails, there is no other option than to provide what is in effect, an artificial lung.
"ECMO is a bridge," said Jennifer Appling, BSN, RN-CCRN, interim ECMO coordinator at SMC.  "It's something that can buy more time to get a patient to recovery or transplant."
Before the acquisition of the ECMO device at SMC, and the necessary training process, patients in such dire circumstances had only one remaining option: transfer to another hospital.
"Being able to offer something like this, where patients aren't having to go through a three to four-hour transfer, is very important to us," said Dr. Figura. "It's not only a game-changer, it allows us to be in a whole different game."
SMC currently has two devices – one is used for the patient and the second is held as a backup in case the primary machine fails. The ECMO devices are in the Cardiovascular Recovery Unit (CVRU), and only nurses from the CVRU and CCU (Cardiac Care Unit) are trained in their use at this time.
In its primitive form, the technology behind the ECMO device has been around for many decades and found initial success with infant populations suffering from congenital heart failure or congenital lung failure. Over time, the application expanded to adults and has gained popularity over the last five to 10 years on a global scale. 
Most recently, this device served a crucial role during COVID-19 surges. One success story involves an individual who was on support for over 40 days before eventually leaving the hospital and returning home.
"That's a patient who a year ago would have died," Dr. Figura said.
The acquisition of the ECMO device and the necessary training was made possible by grant money from the Spartanburg Regional Foundation. SMC also purchased a simulator to assist with training. SMC officially began offering the service on Sept. 5, 2019.
"It's wonderful to be able to provide this top-of-the-line treatment," Appling said.