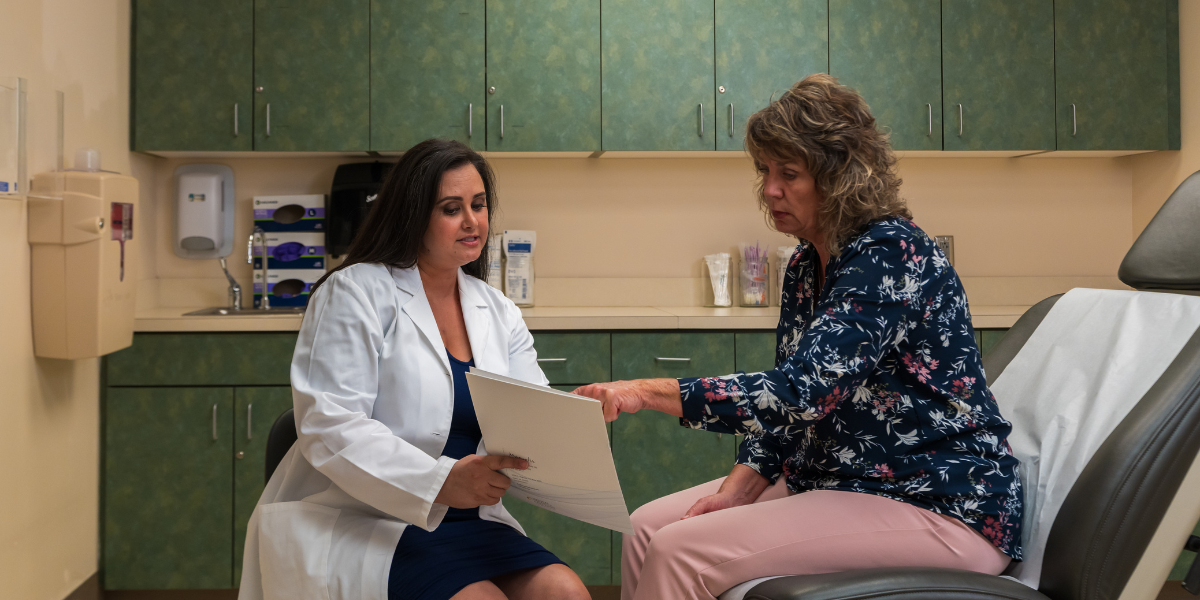 Breast surgeon Dr. Allison Palumbo gives patients confidence when fighting cancer with tailored treatment
Dr. Allison Palumbo never makes a surgery plan for someone undergoing breast cancer treatment without considering the patient's overall quality of life for years to come.
As a fellowship-trained breast surgeon, Dr. Palumbo has gone through additional advanced training that includes less invasive techniques, nipple-sparing procedures and surgeries intended to make reconstruction more successful.
"Historically, breast cancer care was always a mastectomy and an axillary lymph node dissection. These procedures were very disfiguring, and so anytime patients looked in the mirror, they would be reminded of their treatment," Dr. Palumbo said. "Through research, we've found that sometimes less surgery is equivalent to a bigger surgery. The fellowship training definitely gives me an edge as far as knowing which type of surgery would be recommended and when we can avoid some of the procedures that are classically used to treat breast cancer."
Dr. Palumbo has joined the multidisciplinary care team at Gibbs Cancer Center & Research Institute, a part of Spartanburg Regional Healthcare System, and she is looking forward to building relationships with new patients.
"The primary goal is a good outcome from the cancer perspective, but we also want to take into account their lives after they survive cancer and giving them the best quality of life," she said. "I think the best part about being a surgeon is the relationship with the patient, especially a breast surgeon. You really become a part of that patient's family and provide the care that's needed to save their life. They become a part of you, and you become a part of them."
Advancement in breast cancer care
Dr. Palumbo said treatment options for breast cancers have grown and are equally as effective depending on what's right for the patient. Based on new research and advancement in technology, patients do not always have to assume that a mastectomy is the only option for them to have a successful outcome.
"Breast cancer is incredibly complex. Every patient is different, so the care plans need to be different," Dr. Palumbo said. "The treatment recommendations are changing on a yearly basis, and a fellowship-trained surgeon invests the time to stay up to date on the most recent literature and knows how to treat patients – and not overtreat them."
Breast cancer is a scary thought for many patients, Dr. Palumbo said, but the survival rate is so much higher now thanks to advancements and a multi-disciplinary team approach to patient care. As a woman, she also has a unique understanding and empathy for patients who are undergoing breast surgery or breast cancer treatment.
"Being able to sit down with the patient, explain everything about the disease process and what the treatment options are is so helpful for the patient," Dr. Palumbo said. "Survival for breast cancer is good now. You can hear the patient exhale. They tell me over and over again, 'I feel so much better.'"
Inspired by family to pursue medicine
Both of Dr. Palumbo's parents went into the medical field later in life after discovering a love for patient care. Their ability to pursue a passion regardless of a timeline helped Dr. Palumbo gain a sense of resilience and respect for allowing life's influences to lead you as you chase your dreams.
After graduating from medical school and completing her general surgery program, Dr. Palumbo served as a general surgeon for the U.S. Air Force for four years, which included a deployment to Afghanistan where she provided surgical support for more than 36,000 troops.
"I worked in the largest military hospital in the country with a wide spectrum of physicians there. There were all different specialties there who all had to work together for a common goal," she said. "That correlates directly to a multi-disciplinary approach to patient care in the cancer setting where we make treatment decisions together."
Outside of medicine, Dr. Palumbo enjoys raising a family and settling into their new home.
She lives in the Greer area with her husband and their three children – Briana, Brenden and Kevin. They recently adopted a new puppy from the Greenville Humane Society and are enjoying their time exploring the Upstate, finding new activities to do as a family.
Patients can call Dr. Palumbo's office directly at 864-560-1900 to schedule a consultation.