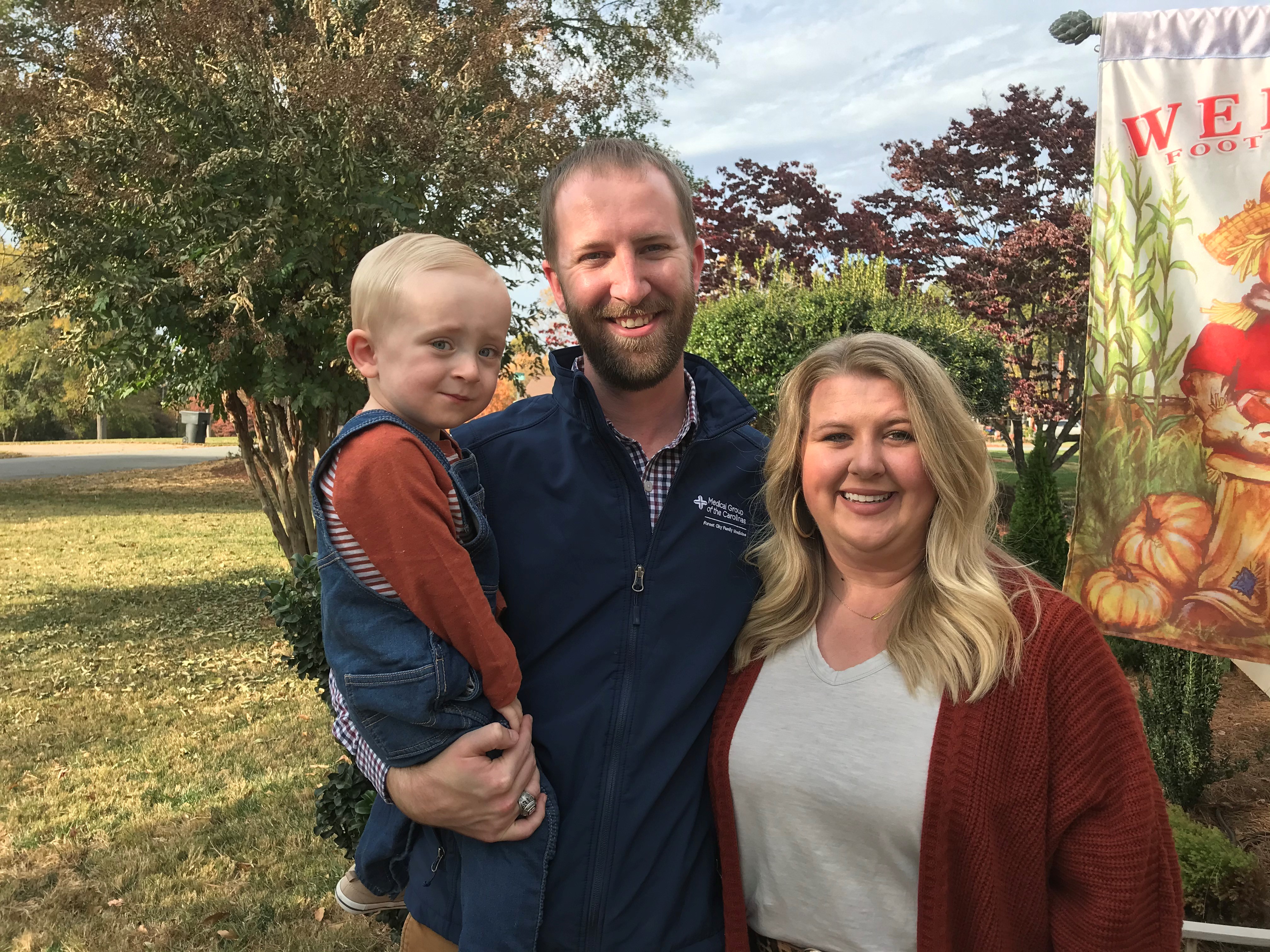 Books for babies
The birth of their son, Colt, was a joyous occasion for Kaley and Ryan Spurlin – but also a frightening one.
Kaley had been diagnosed with preeclampsia, a potentially life-threatening condition for both mother and baby. She was hospitalized and put on bed rest. Colt was born at 31 weeks and four days via an emergency C-section.
As Kaley began post-surgery recovery, Ryan went to see Colt in the Neonatal Intensive Care Unit (NICU) at Spartanburg Medical Center – Church Street.
Ryan works as a physician assistant at Medical Group of the Carolinas – Family Medicine - Forest City and he's accustomed to medical settings. However, he said that entering the NICU for the first time to see Colt was intimidating. "There were beeps and alarms going off everywhere. You don't really know what to think."
But nurses and NICU staff helped Ryan and Kaley feel at ease. The Spurlins live in Forest City, North Carolina, so they spent a lot of time traveling back and forth. They wanted to make the most of every visit, and the NICU team was supportive.
"They walk you through everything, and they show empathy and kindness," Ryan said.
Ryan and Kaley wanted to do something to give back so they organized a book donation drive to support other NICU families. Friends and family members have supported the project. This year, they contributed 114 books to the NICU.
Kaley is a teacher, so promoting a love of reading comes naturally. But the donation of books was meaningful to Kaley and Ryan for another reason: They recalled that when Colt was so small, they couldn't yet hold him.
"Reading was one of the ways we could bond with him," Kaley said.
NICU manager Karol Eubanks said her staff appreciates the Spurlins' support for the hospital's tiniest patients. "We are grateful for the effort they put into this project and for the compassion they have shown for other NICU families," she said.
As well as special assistance for patient families that may include transportation and lodging, this fund provides equipment upgrades and special training opportunities for staff members. Eubanks is also grateful for donations to the Spartanburg Regional Foundation's NICU Fund.
"The fund provides an extra layer of support for our NICU, and donations make a difference for our staff and the families we serve," she said.
Colt is an energetic, growing 2-year-old now. He has come a long way since his time in the NICU. But his parents still feel inspired by the care he received during those first weeks of his life.  
"The NICU team was just incredible across the board," Ryan said.
To donate to the NICU Fund, please visit Regionalfoundation.com/ways-give/families.