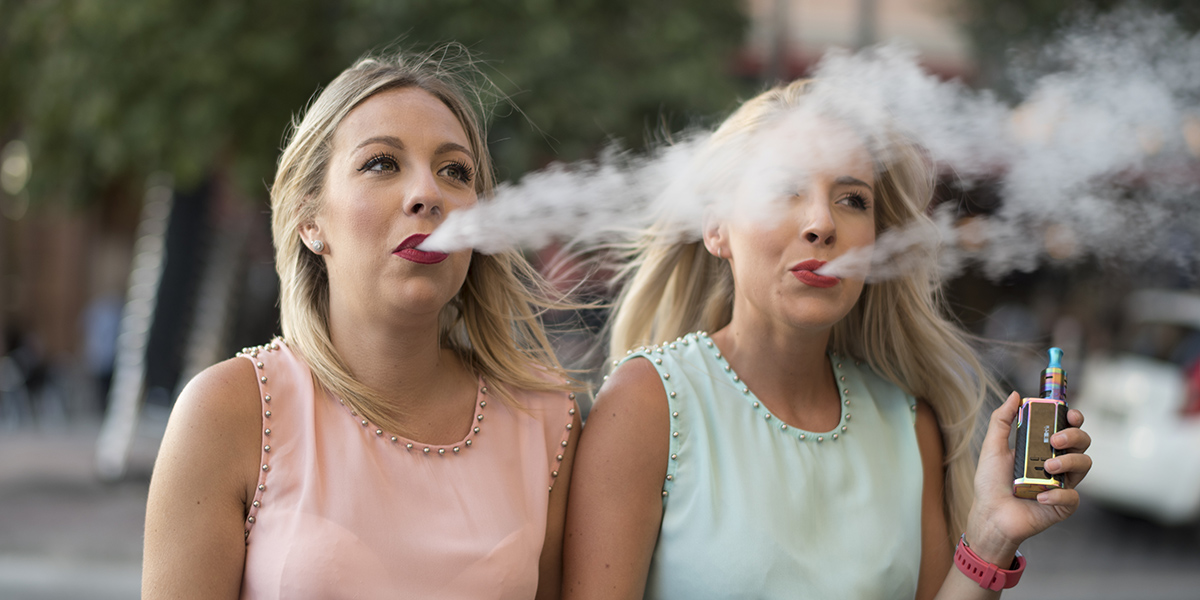 Blowing smoke
There's a lot of news out there about vaping … and a lot of questions, too. The health professionals at Spartanburg Regional Healthcare System want you to have the facts. Here's what you should know:
How does it work?
"Smokeless non-tobacco cigarettes" were first patented in 1963, but the technology wasn't commercialized until inventor Hon Lik of China patented the modern e-cigarette in 2003, according to livescience.com.
The smoker draws air through a replaceable inhaler cartridge that contains vegetable glycerin, polyethylene glycol, flavoring and nicotine. A heating chamber, or vaporizer, heats a small amount of liquid flavoring with every inhale.
Alternative to tobacco?
E-cigarettes are popular among people who are trying to quit smoking tobacco products and are often marketed as a healthier alternative to cigarettes.
"E-cigarettes have the potential to benefit adult smokers who are not pregnant if used as a complete substitute for regular cigarettes and other smoked tobacco products," according to the Centers for Disease Control and Prevention.
That doesn't mean people should vape.
"Scientists still have a lot to learn about whether e-cigarettes are effective for quitting smoking," the CDC states.
The CDC warns people not to start vaping.
"E-cigarettes are not safe for youth, young adults, pregnant women or adults who do not currently use tobacco products," the CDC states.
The nicotine problem
While different than cigarettes, vaping devices still use nicotine – a highly addictive substance.
For most vaping devices, one vape pod has the equivalent dose of nicotine as one entire pack of cigarettes.
Nicotine increases the heart rate and blood pressure, and nicotine toxicity can trigger seizures and other neurologic complications, according to Dr. Donna Smith, pediatrician with Medical Group of the Carolinas – Pediatrics – Westside.
"I remind teens that if you have a seizure, the state of South Carolina does not allow you to drive for 6 to 12 months," Dr. Smith said.
Growing use among teens
It's a warning that Dr. Smith has given a lot more lately.
Scientists note an alarming increase in the number of teenagers who are vaping. In a 2018 survey of 44,000 students, about 37 percent of high school seniors reported vaping, compared with 28 percent in 2017, according to the National Institutes of Health.
Dr. Smith thinks the number is higher.
"We are seeing patients as young as middle school vaping, sometimes even in class," Dr. Smith said. "They exhale into their armpit or inside their shirt to avoid being caught."
Vaping devices are easy to buy, despite being illegal for minors. And students are helping each other vape.
"One patient told me that a classmate sells hits off of his personal vaping device for those who don't have their own," Dr. Smith said.
And while older people are using vaping to quit smoking, Dr. Smith indicated that vaping in adolescence increases the risk of subsequent smoking as well, according to newer studies.
Vaping deaths
As of Jan. 14, 57 people have died and 2,668 people have been hospitalized across the U.S. for lung injuries associated with the use of vaping products, according to the CDC.
The outbreak of vaping-related deaths began in June 2019 and have been declining since September. However, people are still being injured.
Initial research has indicated that vitamin E acetate, an additive in some THC-containing vaping products, may be a culprit in the outbreak. THC, or tetrahydrocannabinol, is a psychoactive component of the marijuana plant.
That theory has not been proven at this time, and there are too many variables in the mixtures to know the true cause of death in these patients.
The ingredients of vape liquid vary, and some people create blends of their own.
The law
The federal government has taken steps to remove flavored vaping cartridges from the market. Beginning in February, the Food and Drug Administration is poised to begin taking action against manufacturers that sell flavored cartridges.
In places where smoking is prohibited, vaping is banned as well. That includes hospitals, schools and other public buildings.
The bottom line
Health agencies across the country agree: Don't vape. E-cigarettes aren't safe for anyone, and a lot more research is needed.
There are other alternatives for those attempting to quit tobacco. Schedule an appointment to talk with your doctor about other options. Need a doctor? Find one here.