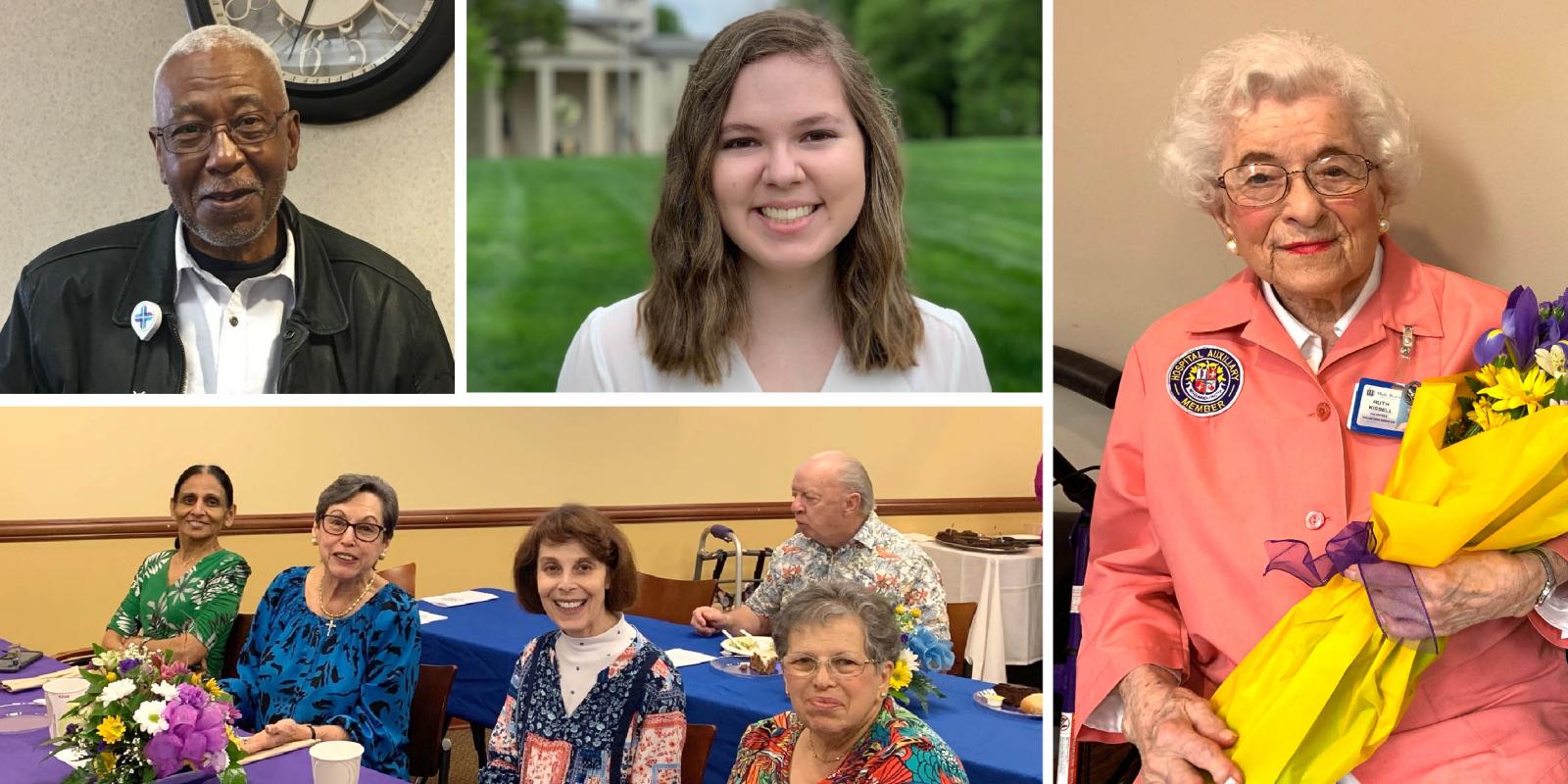 The best of the best
They greet patients with smiles and warmth. They stock shelves so medical staff can focus on patients. They help out at front desks and enter data.
Volunteers are a crucial part of life of Spartanburg Regional Healthcare System. So crucial that the system celebrated volunteers at a series of special events earlier this month.
But what does volunteerism look like?
It looks like Ruth Kissel, a 96-year-old woman who recently celebrated five decades of volunteering at Spartanburg Medical Center – Mary Black Campus.
It looks like Rebecca Byrd, a 20-year-old college student who brings blankets and warm beverages to the patients in the infusion center at Gibbs Cancer Center & Research Institute.
It looks like Charles Lott, the volunteer who greets and escorts visitors at Union Medical Center.
They're diverse in age and race, but they are tied by one common thread – they're the best.
"The folks we have are the best of the best," Volunteer Services Manager Jill Dugaw said.
Dugaw knows they're the best, because each volunteer is screened with the same thoroughness that hospital employees undergo. If accepted, they take part in a six-week onboarding process.
It's an arduous path because Spartanburg Regional demands excellence from everyone who might be around patients.  
"You don't just decide one day and then the next day you're volunteering," Dugaw said.  
Volunteers range in age, with the minimum required age in healthcare being 18. Dugaw said volunteering appeals to college students and to retirees.
"A lot of the people who are volunteering are either recently retired or approaching retirement," Dugaw said. "They have a knowledge base built from a lifetime of experience and they can really make a difference here." 
Those who make it through the onboarding process consider volunteering at Spartanburg Regional to be immensely rewarding. Here's just a few of the many volunteers across the healthcare system.
Rebecca Byrd
Gibbs Cancer Center & Research Institute
Byrd, a 20-year-old Wofford University student, volunteers in the infusion center on a weekly basis.
"I check up on patients, I get them something to eat or drink. I get them blankets," Byrd said.
She studies biology and wants to continue her studies to specialize in surgery. Byrd began volunteering in 2017 and will graduate from Wofford in May 2020.
She loves the experience she is gaining by working with patients.
"I can help brighten their day when they're not having the best day," Rebecca said. "It helps me feel better."
Ruth Kissell
Spartanburg Medical Center – Mary Black Campus 
Two major moves happened in 1968: Mary Black Memorial Hospital moved to Skylyn Drive and Ruth Kissell moved to Spartanburg from Denver, Colo. In 1969, Kissell began volunteering at the hospital.
Spartanburg Medical Center – Mary Black Campus celebrated Kissell's 50 years of service with a special event on April 10.
Kissell has been "incredibly devoted," according to Sherry Winstead, volunteer coordinator at Spartanburg Medical Center – Mary Black Campus.
"She brings joy and laughter to everyone she meets, and she is very proud to be a volunteer," Winstead said. "Her compassion to our patients, families, visitors and staff is immeasurable."
Kissell has volunteered in the surgery waiting room and currently volunteers in the endoscopy waiting room, where she greets patients and their families, offers coffee to visitors and more.
As a resident of Eden Terrace of Spartanburg, the assisted living home drove her to the hospital and picked her up one day a week so she could continue to volunteer.
Elaine Yanton
Spartanburg Medical Center, AccessHealth
Yanton began volunteering in July 2018, delivering cheer cards and going around to patient rooms to visit and offer comfort. Her volunteerism expanded to include time at the front desks of both the massage therapy office and AccessHealth, the service that helps coordinate health care for the uninsured and underinsured.
Yanton enjoys visiting patients, especially when she knows that someone is lonely.
"I feel very happy that I can make a difference in people's lives for just a few minutes," Yanton said.
Accepting volunteers
You can join the ranks of the hundreds who make a difference at the hospitals of Spartanburg Regional Healthcare System. Learn more about volunteering.