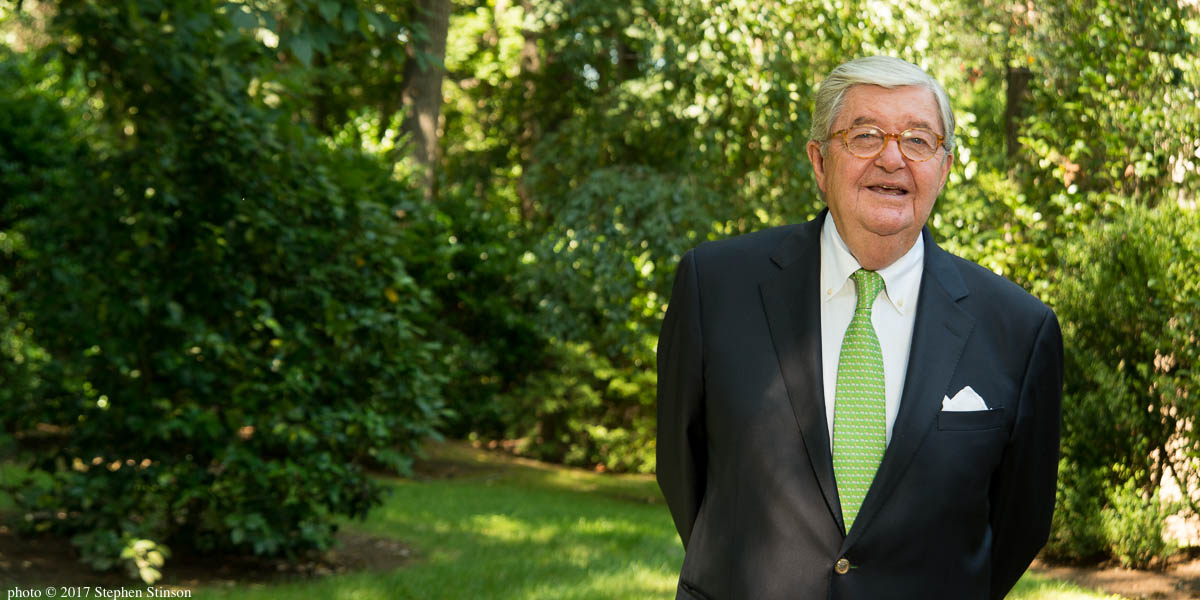 Beloved physician grateful for advances at Spartanburg
Sidney Fulmer, MD, gets excited when he talks about advances he's seen in the medical community over the decades. He's especially enthusiastic about the growth of Spartanburg Regional Healthcare System –the introduction of cutting-edge technologies, the influx of talented physicians bringing specialized care, the development of new facilities and the expanded outreach into the community.
When Fulmer returned to his hometown of Spartanburg in the 1960s to begin practicing as an OB/GYN, one could hardly have imagined these advances.
"I think it's just very impressive what we have here now," he said.
While Fulmer's perspective is informed by his years working as a physician, it is heightened by his experiences as a patient.
In 2004, he underwent successful open heart surgery. Just last year, he required surgery to remove a potentially life-threatening blockage from his carotid arteries.
"I'm 85 and I'm here today and so much of that is due to the excellent care I got at the Spartanburg Regional Heart Center," he said.
Work with the Foundation 
Now, as chairman of the Spartanburg Regional Foundation Heart Division board, Fulmer is working to make sure that other residents of the Upstate can access the cardiac care they need.
The Foundation's heart division supports funds that promote cardiac health in several ways:
awareness and education to help prevent heart disease and strokes
scholarships for nurses
financial assistance for patients needing cardiac rehabilitation, medicines or equipment
distribution of AEDs into schools, churches and other community centers
"All these kinds of programs are what's great about the Spartanburg Regional Foundation," Fulmer said. "We can really make an important difference for people."
Establishing the Spartanburg Regional Foundation 
Fulmer was one of three leaders, including former hospital president Charlie Boone and the late businessman Robert Harley, who established and served on the Blue Ribbon Panel that helped to create the Foundation more than 25 years ago. He also served on the Foundation's inaugural board of trustees.
As a physician, he was known for his commitment to his patients, which helped him lead the Foundation. He has also made his mark as a community leader, serving on boards with the Spartanburg Area Chamber of Commerce, the Spartanburg County Foundation, and various arts organizations.
Fulmer saw not only an opportunity to raise money for innovations and capital projects, but also to raise awareness about the vital role of Spartanburg Regional in the life of the community.
"We needed to go beyond the walls of the hospital," he said.
The Foundation's early proponents believed that the support and involvement of some of the community's most respected business and civic leaders would bring enhanced credibility to the healthcare system. Fundraising events and other activities would foster positive relationships in the community. And those choosing to donate would feel a personal connection to the system.
In Fulmer's view, it has all been a major success.
"We have exceeded our own expectations," he said.
"Spartanburg Regional Foundation was fortunate to have strong leaders from the very start," said Foundation executive director Kristy Caradori. "Their vision, talent, and standing in the community continue to pay dividends."
"Many of our earliest supporters have stayed involved with the foundation over the years, and we are certainly grateful that Dr. Fulmer is among them," Caradori added. "He is an important asset to our heart division and the foundation as a whole."
Helping local patients
One of the reasons that Fulmer has remained committed to Spartanburg Regional Foundation is that it improves lives locally.
"I like to help people right here," he said.
And he's grateful that when he needed medical attention, Spartanburg Regional Healthcare System was prepared to deliver. Fulmer noted that as a physician he is well educated on trends in medicine and knowledgeable about the care offered in other hospitals.
His choice was Spartanburg Regional. "There's not any place in the U.S. I would rather be. You get superb care here."
Learn more about the ways Spartanburg Regional Foundation supports heart health by visiting https://www.regionalfoundation.com/ways-give/heart-disease.