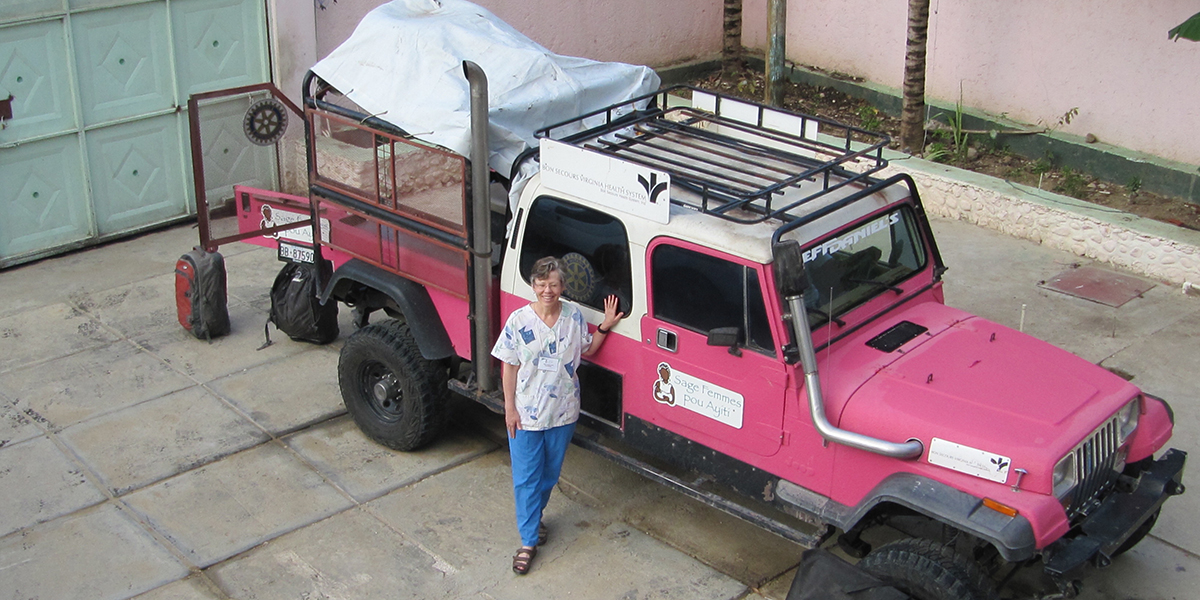 Back to Haiti
Editor's note: Ruth Stanton is a certified nurse midwife with Medical Group of the Carolinas-Center for OB/GYN. She is preparing for her third trip to Haiti as part of the nonprofit organization Midwives for Haiti. Here, she shares about her previous experiences.
Haiti has the highest maternal mortality rate in the Western Hemisphere, and a huge reason is that only about 10 percent of all the women having babies have the assistance of a medically-trained birth attendant like a doctor or nurse-midwife.
Certified nurse midwife Nadine Brunk wanted to change that. In 2006 she started Midwives for Haiti, a nonprofit organization with the mission of training skilled birth attendants for Haitian women.
Nadine started Midwives for Haiti with a class of nine students, with lectures in the shade of a tree in good weather, and deliveries at Sainte-Thérèse Public Hospital in Hinche, a three-hour drive from Port of Prince.  
Ten years later, the program has graduated 125 skilled birth attendants, and the current class has 33 students. Sainte-Thérèse has 2,200 deliveries a year and is staffed by 18 graduates of the program who also work with the students.
My first trip
The first time I heard about Midwives for Haiti, I was at a South Carolina Nurse-Midwife meeting. This organization was asking for some support following the devastating 2010 earthquake. 
As I learned more, I decided to volunteer myself. I left in March of 2011 with a nurse-midwife friend, Bobbi Kimsey (of Charlotte, N.C.), and had a very rewarding week.
The program provided for a translator to be at our elbows anytime we were with patients and students. And the staff at Midwives for Haiti and Sainte-Thérèse are welcoming and friendly. 
A high point was going in the "Pink Jeep" to an outlying clinic in From Braun – about an hour and a half and three small river crossings away – to provide a monthly prenatal clinic. 
Women would walk up to three hours to get a prenatal checkup. We saw 40 women that day.
My job was to help two students with their physical exams of pregnant moms. The Haitian midwives taught a health class, triaged the women, provided required medications and vitamins, decided what the best plan of care for high-risk moms should be and documented the care in the women's charts.  
A sobering fact I learned from the hospital birth log: Six mothers had died during the previous three months at the hospital. Clearly the program was needed.
My second trip
The experience was so rewarding that I went back in March 2013.
So much progress had been made – the hospital had electricity and running water at night! There was improved staffing with skilled birth attendants in labor and delivery and on the postpartum floor 24/7 care was provided. And the program, while increasing the numbers of babies born at the hospital, had only lost one mother the previous year. 
The outlying clinics continued their success in providing prenatal care. By chance, I was able to go to From Braun again. This time we saw 100 women that one day. What a great experience for the students!
Here in 2017, I am happy to be going to Hinche for my third go-round. Each time I have gone, I have taken supplies – baby layettes, life-saving medications, fetal heart rate doppler, tools for the students, gloves – you name it! 
This time is no exception. Collecting supplies to cram into my suitcases has turned my sunroom into Haiti Central! I will report back in April when I return – I look forward to having more amazing stories to tell.