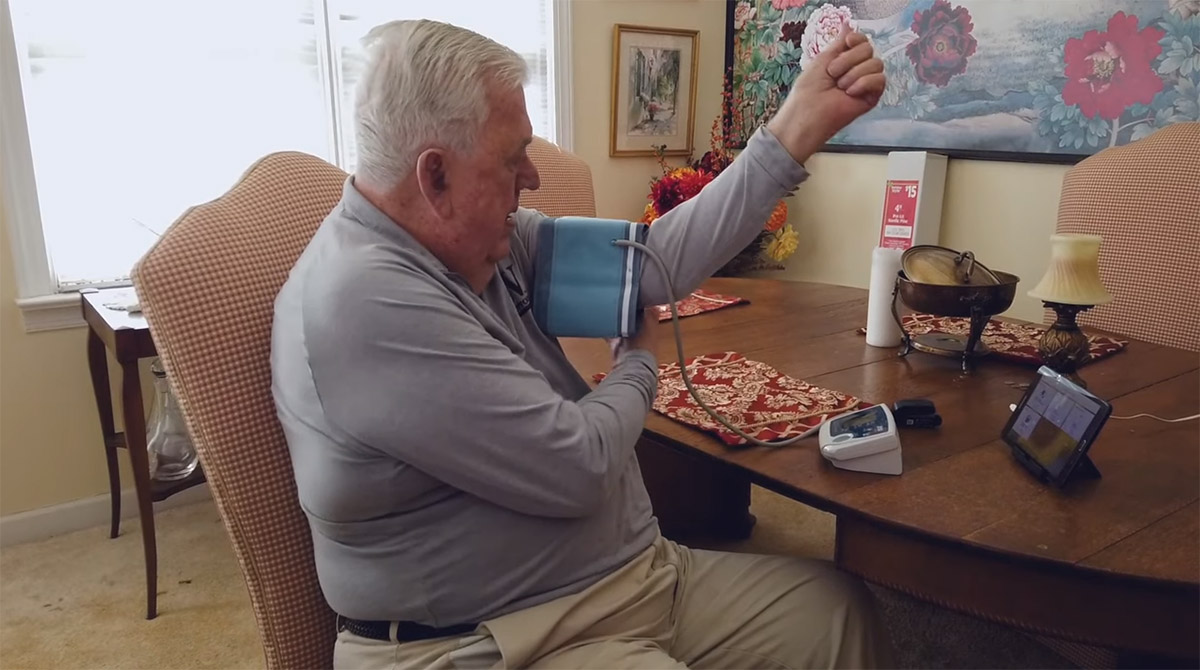 At home, out of the hospital
Some chronic conditions don't have a cure and can potentially lead to frequent hospital readmissions.
Spartanburg Regional Healthcare System's remote patient monitoring program allows patients with conditions like congestive heart failure (CHF) and chronic obstructive pulmonary disease (COPD) to track their symptoms better and get care sooner, leading to fewer hospital visits and a healthier, more independent life.
"While these chronic conditions don't have a cure, they can be managed aggressively to improve quality of life," said James Harber, MD, medical director of Spartanburg Regional's Post-Acute Division. "We can measure vital signs and act on changes to positively affect the patient's well-being."
The goal? Improve care delivery and health for the people who live in our community, especially those in rural areas, said Marc Bingham, MD, Spartanburg Regional's vice president and system chief clinical informatics officer and medical director for telehealth.
"If we can reduce patients' drive time, increase access and improve outcomes, then we've brought value to our community and the system," Dr. Bingham said.
Helping patients and population health
Spartanburg Regional first launched the remote patient monitoring program in 2007 with a grant from the Spartanburg Regional Foundation. The goal was to reduce readmissions for heart failure patients and improve population health, which is monitoring and improving the overall health outcomes of a whole group or community.
The initial program successfully reduced hospital readmissions for heart failure patients, so Spartanburg Regional decided to fund the program permanently.
 "It's not just financial costs, but also social costs and quality of life — a lot of things are sacrificed for these people whose symptoms are not well managed," Dr. Harber said.
From telephones to tablets
When the home health program first began, patients were given scales and blood pressure cuffs to take measurements daily. Once they recorded the data, patients telephoned in their stats to nursing staff.
Today, patients are given a scale, blood pressure cuff and oxygen monitor to track vital signs daily. The information uploads directly to a tablet via Bluetooth. Once the information is in the system, a nurse checks the numbers from the clinic and determines whether the patient needs intervention.
For example, heart failure patients can track daily weight to see if they are retaining fluid. If their weight jumps more than two pounds overnight, the nurse intervenes and tells the patient to take more diuretics or visit the doctor.
The tablet also gives patients access to educational videos. And recently the program began to sync remote monitoring data with the patient's electronic medical record. This allows better tracking of progress over time, supporting the patient's care team more effectively as they can clearly see the impact of treatment changes.
Patients are typically referred to the remote monitoring program after being discharged from the hospital following an admission for CHF or COPD. However, some patients may enroll in the program with a referral from their primary care physician.
Focusing on education
Most patients who participate in remote monitoring have access to the home equipment for two to four weeks. The goal of the program is to not only monitor the patient but to educate him or her on how to track important vital signs.
"We want the patient to become more engaged in their care and educated on the signs and symptoms of their condition getting worse," Dr. Harber said. "In the time they have access to the kit, we hope they learn how to use the equipment and understand how to respond to the biofeedback they're collecting."
Looking ahead to the future
After more than a decade of remote monitoring, the tools and devices are ready for another evolution. Glucose meters will soon be added to the home kits to better track blood sugar levels for patients with diabetes. The team is also planning to add video conferencing capabilities, which will be important for wound care and medication management. A pharmacist is also beginning to offer virtual visits with patients who have diabetes and complex medical issues, to focus on optimizing multiple medications.
"There's a lot of potential for this program," Dr. Harber said. "We're hoping these steps will take us closer to the next level of interactive care."
Learn more about telehealth services provided by Spartanburg Regional Healthcare System.