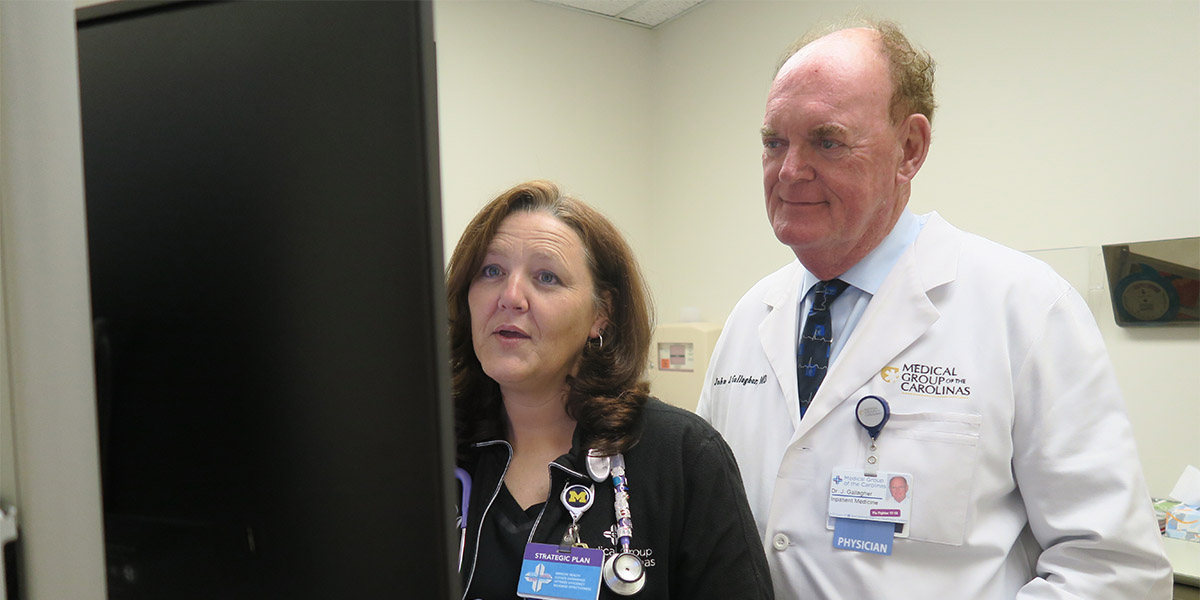 John Gallagher, MD, discusses a patient care plan
50 years as a physician
In 50 years of practice, John Gallagher, MD, has seen many changes in medicine.
"The technological advances are tremendous," Dr. Gallagher said. "Take something like these DNA and genetic companies. Today we can identify every strand of DNA in the body and create a treatment plan around that."
Dr. Gallagher, who recently started practicing at Medical Group of the Carolinas—Internal Medicine—Spartanburg, says that technology assists with accurate diagnoses but much can still be deciphered with traditional medicine.
"It's amazing how much you can learn just with a stethoscope," he said. "Talking with a patient and looking at them can tell so much."
Dr. Gallagher's career as a physician can be traced back to an injury he had when he was 11 years old growing up in Brooklyn, New York.
"I was in the street and I was run down by a Mack Truck," he said. "I was in the hospital for nine months and was in the medical setting for a long time."
However, when he went to college, he started out studying to be a physicist. But after a dangerous experience while performing an experiment, he decided to change his major to pre-med — especially after a tour in a medical facility.
"Being around those sights and smells brought a flood of memories back from being in the hospital as a child and I knew this is where I needed to be," he said. "I made the switch from physics to medicine overnight."
After medical school at Georgetown and service in the United States Coast Guard, Dr. Gallagher became a cardiologist and was a chaired Professor of Cardiology at Duke. He subspecialized in electrical disorders of the heart and performed the first successful catheter ablation of the heart while at Duke University in 1982.
Now he has transitioned to internal medicine which focuses on prevention, diagnosis and treatment of adult illness. Dr. Gallagher is Board Certified in Internal Medicine Cardiology and Electrophysiology.
When it comes to communicating how to stay healthy to his patients, Dr. Gallagher stresses moderation when it comes to eating and trying out new exercise plans.
"I want patients to live the best they can, knowing from the get-go that there are things that are bad for their health," he said. "Everyone needs balance."
About John Gallagher, MD
Dr. Gallagher is a physician for Spartanburg Regional Healthcare System. Dr. Gallagher specializes in internal medicine at Medical Group of the Carolinas—Internal Medicine—Spartanburg, located at 100 East Wood St., Suite 401, Spartanburg. To make an appointment, call 864-560-6851.